Used Supercars Can be a Smart Buy if You Know the History
Supercars are special machines, but the buying process for them, especially used supercars, can be pretty ordinary. While there are always going to be special situations with auctions, in most cases, most of the conventional car-buying wisdom applies. You should go and see the car in person, test drive it, negotiate with the seller, and so on. One bit of advice that I'd like to discuss, is the need for a vehicle history report. 
Don't buy a supercar—or any car for that matter—without truly knowing and having documentation of its history. Service and maintenance records are good, but you also need to know if there has been any damage. That's where a vehicle history report comes into play. 
You'll often find listings of supercars on various sites like eBay or Bring A Trailer "with records since …" While these records that the seller has are fantastic pieces of the car's history, a vehicle history report that you order from a company with special access to vehicle records is something else. It will showcase information that you won't find in the dusty receipts and records of the seller's folders. 
What Is a Vehicle History Report?
To put it simply, a vehicle history report is a detailed account of the car's ownership. It includes the car's accident history, title status, mileage, and more. This information is all information that a prospective buyer should want to know about and have in their possession before completing the purchase. 
This type of report is possible because all of this is tracked through insurance companies and other organizations and agencies. All of a vehicle's information is tied to its vehicle identification number (VIN). 
The VIN is your key to getting a vehicle's history report. With that information, you'll be able to get a detailed report from a variety of companies, such as REVs Check Report. While these reports do cost money. They are extremely affordable, and that allows you to get some peace of mind when purchasing the supercar of your dreams. 
A good vehicle history report can show you the following things and a whole lot more:
Engine theft records
Number plate thefts
Stolen VIN records
Storm or flood damage
Collision and parts damage
Repairable write-offs
Encumbrance records
Secured party details
Recall status
As you can see from the list above, all of these things are extremely important for a prospective buyer to know. They will give you peace of mind that the supercar you're buying was not only well taken care of but in as good condition as it looks when you go to inspect the car. 
Should You Buy a Supercar Without a Vehicle History Report?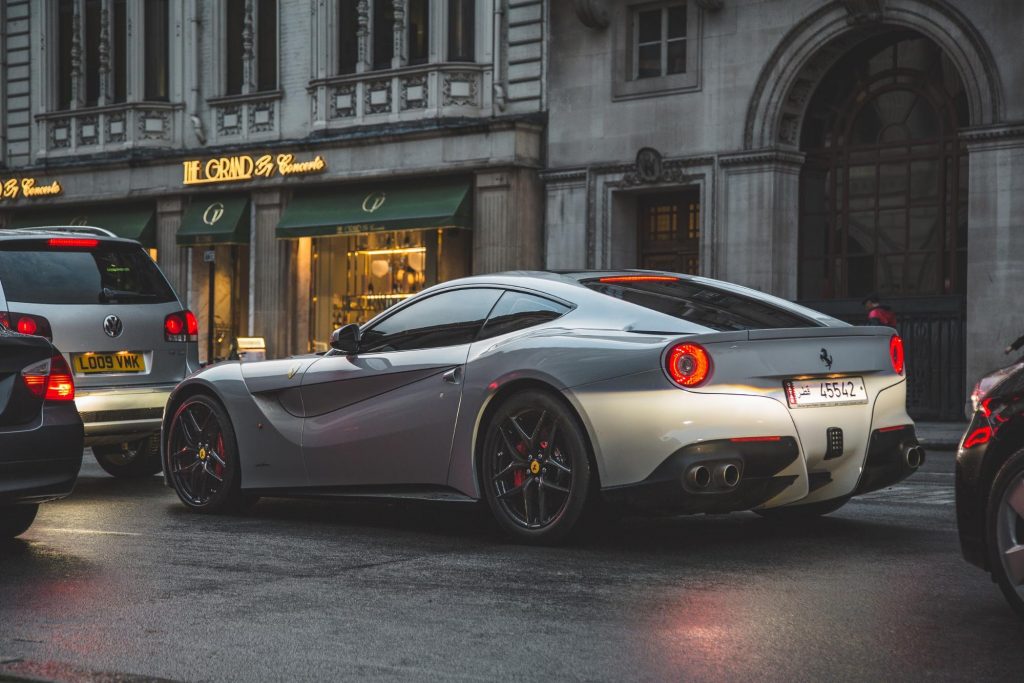 Do not buy a supercar, whether it be a Ferrari, Lamborghini, Porsche, McLaren, Aston Martin—or any other brand, without getting a vehicle history report. This might seem obvious, but it happens all the time. Every day there's a buyer somewhere in the world who gets burned because they failed to go the extra step to find out the vehicle's history before signing at the dotted line. 
Buying a car can be an emotional process. Especially when purchasing the car—or one of the cars—of your dreams. Buyers routinely fall in love with a specific vehicle and choose to forgo the vehicle history report or simply trust the seller when he or she tells the buyer that the car has had no accidents or issues that they know of.
This can be a disastrous decision to make. Without a vehicle history report, you could buy a car that has been wrecked, damaged by storms or flooding, had titling or mileage discrepancies, been stolen, and so much more.
It's bad enough when it happens with a regular passenger car, but with a supercar—where the sums of money paid for cars are so high—it's downright shameful. Instead of being out $15,00 or $20,000, you'll be putting out a lot more money, sometimes hundreds of thousands. If you're in the market for a used supercar, make sure to pay the few dollars it costs to have the history report done. It's the smart move to make, no matter who you're buying the car from. 
Many dealers will be happy to pay for the history report themselves. If they don't, take that as a sign they're hiding something. No car salesperson worth his or her salt will let a sale slip away due to a history report. The same goes for private sellers. A good private seller will either already have an up-to-date vehicle history report on hand when you come to inspect the car or be willing to order you one if you ask them to do so. 
With it so easy and inexpensive to get a vehicle history report, there's absolutely no reason not to get one.